Five Questions for a Beauty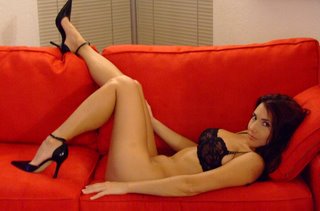 Five Questions for a Beauty
Tara Tainton is, without question, a hottie. I met her about four or five years ago at
ERWA
. Tara is also a smartie. She calls her website -
Tara.Tainton.com
- the "fasting growing playground for consenting adults." It's jam packed with information.
"This site is designed to be a safe, warm, and welcoming place for all adults to play. Created by sex writer Tara Tainton, this playground advocates her belief that SEX IS GOOD.It includes honest, written descriptions of sexual situations and artistic images (if you're lucky)of the beautiful human form through explicit stories, articles, photographs, videos, games,news, links, and other sex-related resources in a variety of forms...all confirming that sex is natural, healthy, and enlightening."
Be sure to hop over for a visit. I guarantee you'll be back for more. Check out her
Naughty Shop
as well!
One of my past reads that had a significant impact on my own life, goals, perspectives, and relationships with others is Ayn Rand's Atlas Shrugged. A past lover I had a great mental connection with gave the book to me as a gift years ago knowing the ideas and Ayn Rand's own life, beliefs, and fearlessness would reach something within myself. I still refer to favorite quotes, ideas, and manners of living presented within the book, and the same have definitely influenced my writing itself, even achieving my dream of "being a writer" in the first place. Rand's works, essays, and life include so many positive lessons and empowering ideas regarding womanhood, love, sex, self-confidence, self-esteem, individual goals and accomplishments, business, independence, and even the strength to disregard those negative influences and judgments from others. The same definitely have a place in the area of writing erotica as well.
2. Name a favorite piece of music.
A favorite piece of music... that's a hard one as my favorite pieces of music come and go along with different phases of life and love experienced, always having a significant place in my heart but always changing. I tend to be moved by the words and thoughts behind songs most of all... ideas that match my own, offer a new perspective, or just motivate me positively in some direction. Oh, there's Macy Gray's "Do Something" and "Time of My Life," Green Day's "Minority," U2's "Last Night on Earth" and "Beautiful Day," Alanis Morissette's "You Learn," Semisonic's "This Will Be My Year," Jesus Jones's "Right Here, Right Now," The Rolling Stones' "I'm Free," David Gray's "Babylon," Incubus's "Drive," The New Radicals' "You Get What You Give," Moloko's "The Time Is Now," ....just to name a few!
3. You've been invited to a cocktail party. What do you wear?
A cocktail party! Will you be there, Jolie?? ;) Considering the influence my current "home city" of Las Vegas has had on me for the last year and my own unexpected desire to be a little more traditionally womanly (glamorous?) as I get older, I'd have to wear a pair of strappy stilettos and a short dress that barely covers everything. Oh, and a g-string that makes me feel sexy. And I always make sure I'm wearing something I feel comfortable and beautiful in, regardless of the views or opinions of others, sometimes even against my own partner's taste for MY attire. :)
4. What do you feel has been your most important writing accomplishment to date?
My most important writing accomplishment... it's easy to mentally start filing down a list of publishing credits here or there, but I don't think any of that's actually important (only helpful to pass along to those editors who do think it is!). I definitely take most pride in the level of integrity and honesty in my voice in my own writing, which comes through in my public blogging on my personal site as well. I've felt most accomplished, most in tune with my life's purpose and my own direction, when I've heard from readers how a thought, story, article, or expressed opinion of mine has reached out to them somehow, made them view their own life more positively, helped them feel normal, natural, even empowered to stand up for want they really want and need in their own lives. And I can always sit back and look at my bodies of work, whether it's a casual blog post or story or article sold, and know that I was completely honest and true to myself in all of it. I'm sharing the real me with the world, and I know that comes through my writing and helps me to connect and share something special with others.
5. What is your next writing project?
My next writing project/goal is to simply delve more into my own curiosities, personal exploration, and fears and see what stories, opinions, and ideas develop. I want to discover what's hidden in that dark place inside.... beautiful stories, I'm sure. ;)

Labels: Authors, Five Questions for a Beauty, Writing