Five Questions for a Beauty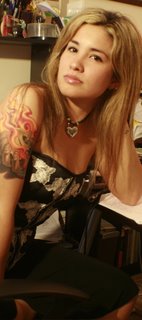 Five Questions for a Beauty
I was introduced to author, model and actress Jolene Hui when I received her submission "Mandy" for Iridescence. Then, when I travelled to Los Angeles to give a reading, I finally got the chance to meet her. Jolene is one of the friendliest authors I know and one of the most beautiful. We hope to co-edit an erotic anthology in the near future.
I've been a bookworm since I learned how to read. There are just so many favorites on my list that it's hard to even name one. However,the one that comes to mind and always stands out for me is We Don't Live Here Anymore, by Andre Dubus. It's a book of three novellas that deal with love, partnerships, and infidelity. I am always amazed by the way infidelity tears up relationships. Jealousy is such poison.
2. Name a favorite piece of music.
Oh wow. This is even worse than the book question. I'm going to go with Radiohead's song "Let Down." The song is off of their album OK Computer, which is not actually my favorite Radiohead album as a whole, but it has a couple of my favorite songs on it. I love "Let Down" so much because Thom Yorke's voice sounds so beautiful as he sings about isolation. It brings tears to my eyes every time I hear it. I feel myself breathing with the music; the emotion in the song attacks my being. It's one of the most fantastic pieces of music out there.


3. You've been invited to a cocktail party. What do you wear?

I generally always wear a little black dress to any kind of party. Top it off with heels and black eyeliner and I'm all set! Pretty much no matter what time of year it is or what kind of cocktail party it is, I find that I always feel and look the best in a sexy black dress. And a manicure and pedicure, of course.


4. What do you feel has been your most important writing accomplishment to date?

The most important writing accomplishment was the first story I had published with Tonto Press. It was called "Bookshelves" and was the first fictional piece I'd had published (outside of my college literary journal). It meant all the difference in my self esteem and pushed me in the right direction writing-wise. Since then I have had so many successes I can't even count them. Even though I had already been writing for years, I look at it as my true starting point.


5. What is your next writing project?
I always have my column, Princess Jolene Goes to Hollywood, up at The Flesh Farm and I'm constantly writing a handful of erotic short stories at the same time. One major thing I've been working on for the past few months is a collection of 50 poems about Los Angeles.They aren't necessarily about the city. Most of them illustrate my life and emotions while in the city. I'm proud of the collection so far and I hope to complete it in the next couple of months. I'm also putting together a collection of my favorite literary and erotic stories that I've written.
Labels: Authors, Five Questions for a Beauty, Interviews