Love Notes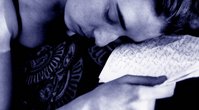 Ever feel like your partner thinks you don't exist? Ever wonder if he thinks about you during the day or if he's just so absorbed in his work that you don't even enter his mind? If you do, chances are he does, too.
Women tend to think that it's just us that needs affirmation of our partner's love but they need it to. They want to know that you think of them during the day, that you dream about them at night, and that you lust after them randomly. Love notes are a great way to let them know that you do.
Try dropping a little love note in his briefcase (just make sure you don't put it anywhere where it will fall out onto his boss's desk!) or leaving him sticky notes on the fridge. If you can be relatively sure that only he will see it, don't be afraid to say something sexy.
"Dear ______________,
I had the most amazing dream last night. I dreamt that we went skinny dipping at that lake we used to go to all the time. The water felt so great on my naked skin and your skin against mine felt even better! Meet you at the shower tonight after the kids go to bed?
Love,
D"
That's only an example. If you dare, get a little dirty. Get raunchy. Say what you really mean and then follow up on it.