Rachel Kramer Bussel on One Night Stands and Other Fantasies For Couples
One of the most popular themes in erotic stories is the "one night stand" or "sex with strangers" theme.
It's a dark stormy night, they are trapped in an unfamiliar place... all alone, until... Or their eyes lock at the airport and they share more than a taxi...
I know many happily married people who would never stray or cheat who love these sorts of stories. I don't think it means their relationship is 'doomed' *wink* But I thought I'd ask Rachel Kramer Bussel, erotic author, editor and host of the erotic reading series,
In The Flesh
, what she thought...
Rachel, what do you think reading 'one night stand' or 'sex with a stranger' stories means as far as the reader's relationship goes? What are these readers looking for?
I think there's a massive difference between having a fantasy and especially reading or writing an erotica story and wanting to actually do that thing in real life. But plenty of people like to explore the idea of opening up their relationship. I think it's totally natural to get turned on by other people, whether real people or celebrities or strangers you pass on the street. It doesn't mean anything in terms of the person you're actually with, and to me, one of the hottest things couples can do is fantasize together. So rather than just keeping your lust for your hot new coworker a secret, you can tell your husband or wife or boyfriend or girlfriend and together you can weave a fantasy about what you would do with that person. Or you don't even have to go there; you can fantasize about what that person's sex life is like, you can put all your most naughty thoughts onto them.
I think people turn to erotica to give them something they don't necessarily have in their sex life, or to share something with a partner, to either read aloud or explore in their head. I would say most people have sexual fantasies lurking somewhere in their minds, whether overtly or in the more hidden reaches and reading erotica can help bring that out. I certainly don't think it means a relationship is doomed even if you have the wildest fantasies imaginable. In some
ways, I'd worry about a person if they never had some wild, outrageous sexual fantasy.
For instance, in
She's on Top
there's a story called "Working Late" by Andrea Dale. Here's a snippet:
"Good. Keep stroking yourself, but not enough to come yet."

I imagined his hand gripping his hard, slick length under the desk, sliding from balls to tip, with a little twist at the end to give the head extra stimulation. It was something I loved to watch, but I could imagine well enough.

My toes curled in my stockings. I wanted him. Soon.

"Ma'am!"

"Yes, Jack?"

He was frozen in place, eyes wide.

"I just saw my boss walk by. I . . . I need to stop."

Felicity Jordan, his new CEO. He'd admitted he was quite attracted to her. She was a sexy thing, to be sure: forty-five and mature, with a gym-strong body and wheat-colored hair cut in a thick bob.

"No," I said. "Keep going."

He broke protocol then, but I wouldn't hold it against him because he had a valid point. "We agreed this would never interfere with or jeopardize my job."

"And it won't, Jack. Keep going." I smiled again, a fresh wave of desire shivering through me as the game advanced. "I've made arrangements with Felicity. That would be Ms. Jordan to you tonight."
It explores how a husband's fantasies about another woman get incorporated into his kinky exchange with his wife. I think sometimes people feel so threatened by the idea of their partner thinking of someone else in that way, they fail to appreciate how erotic it can be to draw out that fantasy, tease the person, ask what exactly they would do if they got their object of affection all alone. I'm sure it can't be just me who gets off on hearing my partner share intimate details about what they think about when they jerk off. To me, that's such a precious insight into their mind and libido and I truly treasure it.
How can a couple address these issues in their own relationships?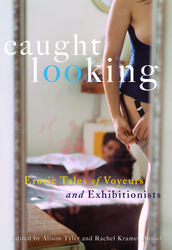 There are different ways, but I think the first is to acknowledge the reality that over time, you'll likely want to do things your partner might not or have erotic thoughts that aren't exactly in line with your partner's, and that's okay. The trick is to figure out how you can combine them, where your interests do intersect, and how you can make this process hot for both of you.
I'm a huge fan of talking dirty, but maybe you're more visual. Finding ways to just add a new twist, whether that's eating a meal naked in your kitchen or having some special symbol for "I'm horny" that you can flash to each other at a party or on an airplane. Maybe it's writing erotic letters (or emails or text messages) to each other. There are lots of ways, and they can be subtle. Even if you're shy and don't want to explicitly talk about your fantasy, you can hint to your partner -- or make them guess.
I think accepting that fantasies of all kinds are perfectly healthy and don't threaten the relationship, which I consider part of self-love, is the first step, then together figuring out how you want to deal with such fantasies. And making sure you each have room for solo time, whether for masturbation, porn, erotic reading, or just having some area of your life that may be all your own, whether a few minutes pleasuring yourself in the shower or those intimate thoughts you don't wind up sharing but keep tucked away.
Here's a snippet from
He's on Top
, from
Gwen Masters
' story "Confession," which is a bit rougher and darker than what I was just talking about but addresses the essence of silence and fantasy and love and betrayal and arousal in this story about cheating -- and making up.
"Did you confess all your sins, Clarice?"

"Yes."

"I want you to confess them to me. I want you to tell me all the bad things you have done. I want you to tell me how you fucked me even while you didn't love me, and I want you to tell me how you faked those orgasms, and I want you to tell me how bad you want this cock in your ass."

Clarice started to tremble. The head of her husband's cock pressed hard against her back door and she tensed up, suddenly afraid.

"Confess," he whispered.

"I fucked a man I didn't love," she said, and as she did, she felt him push harder. Now there was a slow burning sensation between her cheeks, but she found it was more pleasant than anything else. "I faked orgasms for a long time. I acted like the good wife when I really wasn't."

"Tell me more."

"I played with myself while my husband was at work," she said, and Max paused in surprise. Clarice bit down hard on her lip while the burning spread, filling her whole center, making her whimper in protest.

"I'm not going to stop," he said, "Because I know you don't want me to. Confess."

"When I played with myself I pretended that I was fucking someone else. I pretended my husband was tied to the chair in the bedroom and made to watch while someone else made me come over and over and over."

Max pushed harder. Clarice cried out with the sudden flash of pain. Almost immediately the pleasure took over and then there was a dull roaring in her ears, the sound of her own blood pumping furiously. Her clit throbbed.

"Do you like being fucked up the ass, Clarice? Do you like feeling like a slut? Only sluts do that, you know. No good Catholic girl would dream of letting a man sodomize her. This makes you a Godless heathen, doesn't it? It makes you a slut, Clarice."

With that her husband shoved his cock to the hilt, buried himself between her cheeks and ground down hard against her. It hurt like hell but God help her, she wanted it. She cried out and thrashed under him, not sure if she really wanted to get away, knowing damn good and well he wouldn't let her anyway.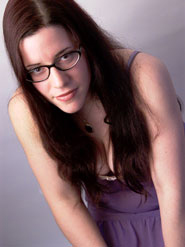 About Rachel Kramer Bussel:
I've edited a dozen anthologies, most recently
He's on Top
,
She's on Top
,
Caught Looking
and
Naughty Spanking Stories from A to Z
. My website is
rachelkramerbussel.com
and my blogs are
Lusty Lady
and the less naughty, but still very seductive,
Cup Cakes Take The Cake
.
Labels: Advice, Authors, couples, Erotic Stories, Fantasies, Gracie, Interviews, Relationships