Five Questions for a Beauty
Lisabet Sarai, an erotica writer, has an image section on her website. The caption of one of her photos is "In My Prime - Another photo of me, from my younger days. This is what a writer of erotica should look like. "
Anyone who views the photo would be hard pressed to disagree.
When you read hot erotica you may assume that the author of the erotica is also hot. But more often than not your assumption would be wrong. Authors of erotica look just like most everybody else.
But there are exceptions, and in my Five Questions for a Beauty I interview what I consider exceptions. These are women who don't mind posing for sexy photos because they have what it takes to pull it off. A feminist may call it objectification. I know it's not that serious. These are intelligent women who appreciate their bodies and who know that a bit of eye candy is not a bad thing.
Five Questions for a Beauty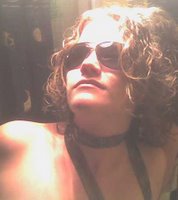 On the evening of October 27th I'll be reading from Iridescence at BookWoman in Austin, Texas. Kelly M. Marshall will be joining me as she reads her story and other stories from Travelrotica. I've never met Kelly, but I discovered what she looked like when I visited her MySpace. Her "Boobsquish" photo is my favorite.
A Blind Man Can See How Much I Love You: Stories by Amy Bloom. I love her writing style: it's visceral, graceful, and precise.
2. Name a favorite piece of music.
This one is hard. Good music helps me write, so there's always something playing. Plus, I'm a huge music nerd. Right now, I'm listening to Pentaphobe's "A Tribal Metamorphosis". I know I'm cheating, naming a whole album.
3. You've been invited to a cocktail party. What do you wear?
It depends on my mood, who's throwing the party, and if I'm wanting to impress. I'm more of a tight jeans and low-cut blouse kind of girl. With high heels. Minimal jewelry. If I'm really trying to go all out, I'll wear a skirt or dress.
4. What do you feel has been your most important writing accomplishment to date?
Getting published in Travelrotica for Lesbians Vol. 2 was a pretty big deal for me. However, artistically, I would say the play I'm helping to co-write is a big accomplishment, not so much from a writing standpoint, but more from a personal growth point ofview.


5. What is your next writing project?


You know that music I'm listening to? It's helping to inspire my next erotica story. That's the only hint you get!
Labels: Five Questions for a Beauty, Relationships, Writing