Five Questions for a Beauty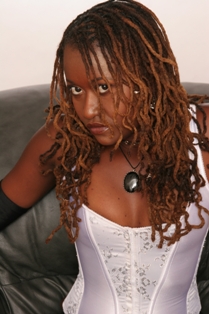 Five Questions for a Beauty
Immediately after I read Fiona Zedde's submission to Iridescence, "Night Music," she became one of my favorite writers. I got to meet Fiona in LA for a group Iridescence reading, and I found her to be just as gorgeous as the beautiful imagery in her story. Fiona has written three novels and you can visit her website here.
1. Name a favorite book. - Abeng by Michelle Cliff

2. Name a favorite piece of music. - "Receive" by Junior Kelly (and everything on Madeleine Peyroux's "Careless Love" CD)

3. You've been invited to a cocktail party. What do you wear? - high heeled sandals and green nail polish with a flowing knee length monochromatic dress.

4. What do you feel has been your most important writing accomplishment to date? - To have my first novel go into its 3rd printing.

5. What is your next writing project? - A novel currently called Hungry For It due in Summer 2008.
Labels: Five Questions for a Beauty, Writing